We specialize in service industry professionals. Whether you replace water heaters or serve food.
We have over 15 years of experience delivering professional branding, marketing, and advertising solutions to the service industry.
Logo Design
Our logo design process begins with a no obligation questionaire to determine if we're a good match for your company. The next phase of the process will determine price and timeline.
We can work within your budget!
The scope of the design - Research, Drafts, and Revisions - can be adjusted to fit you budget.
But logo design is just the beginning of what we can offer your brand new start-up or well-established service industry company.
"Re-Logo"
Do you already have a logo (that you want or need to keep) but don't have digital access to it anymore? Maybe it was created so long ago the computer file no longer exists? Or the designer never provided one?
Maybe you have all the proper logo files and just need it tweaked, enhanced, or recolored?
We Might Be Able to Help!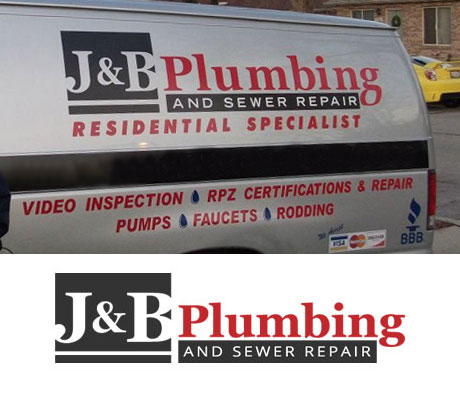 We have experience re-creating logos from scanned business cards, store signs, vehicles, and more. It's not something we can do every time, but if you've got an established brand and just need a digital version of your logo, you've got nothing to lose.
It doesn't cost anything to ask. We'll give you a free, honest assessment of whether we can recreate or digitally enhance your current logo.
Branding
You got here because you were looking for plumbing logos, right? That's a good start.
But, a logo is just a small part of a much larger picture.
The ultimate goal of start-ups and established service industry professionals alike should be a solid, effective brand identity.
What good is a logo if you're not marketing your brand correctly?
Do all of your social media profiles match your branding?
Google, Facebook, and Twitter?
HomeAdvisor, Angie's List, and YellowBook?
Is your logo on your business card and letterhead?
Does your website compliment your logo?
Do uniforms, vehicles, print and online materials convey a consist brand?
Regardless of where your customers find you they should always find a consistent brand.
We can help make sure your brand is consistent across all of your networks- from Google, Twitter, and Facebook to your personal company website.
Website Design
In addition to logo design and branding we design websites!
Whether it's a brand new site or website redesign to match your new logo and brand identity, we specialize in professional web design for service industry professionals.
We remain current and up-to-date in all the latest web design trends and technologies. We can deliver fast-loading, responsive websites featuring our time-tested, high conversion techniques.
Social Media
Why go to the trouble of getting a great logo and website, but then fail to have your social media accounts maintain that brand identity?
We can help setup your social media profiles to match your brand.
Marketing & Advertising
Online marketing & advertising is where we truly excel - helping your company establish or increase market share, reach a larger, targeted audience, convert higher quality leads, and more!
We have access to 1000s of targeted service-industry domains that deliver high-quality, exceptional leads.
We also have superior expertise managing PPC campaigns!
With our full-service suite of online marketing and advertising we can not only drive more traffic to your business, but better traffic: industry-targeted, niche-targeted, high-quality traffic.
What Are You Waiting For?